To empower women participation economic development
ANGARA SEEKS TO AMEND THE LABOR CODE
Senator Edgardo J. Angara today stressed the need to immediately amend certain provisions of the Labor Code to increase national productivity and employment.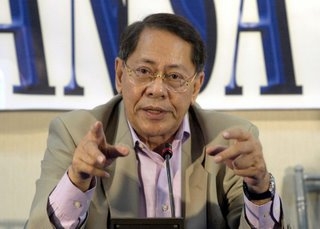 "The liberalization of international economic trade has led to the advent of a global economy that is fast becoming one integrated unit. As a result of better communication and transportation facilities, business opportunities abroad are now within closer reach of local business entities. However, these opportunities may be lost if the local economy fails to adjust and cope with the new demands of the international market," observed Angara, who also chairs Senate Committee on Banks, Financial Institutions and Currencies.
Recognizing the economic and labor contribution of call center agents, most of whom are women and are working at night, Angara filed a bill which seeks to amend and update the Labor Code in order to be attuned of the demand of the labor market.
"Working of women at night is prohibited by the current Labor Code. We really need to change some provisions of the Code in order to compensate the current situation. There are almost 200,000 call center agents in the country, majority of them are women and most of them work at night. We cannot negate their contributions to the economy and it is also imperative for us to afford certain Labor rights to protect them." Angara said.
He added, "It is necessary that the government creates a business environment that allows the local economy to be more competitive in the global market. With this, I am for the overhaul of the Labor Code so the country's labor rules can adapt to the dramatic changes brought about by technological strides and outsourcing, and the challenges brought about by globalization on the work place."
Under his proposal, amendments to the existing Labor code will include: a compressed workweek or flextime arrangements; revision of the doctrine against the elimination/diminution of benefits under certain conditions; restructuring of the visitorial and enforcement power of the Labor Secretary to allow for self-regulation; and exception from the night work prohibition on women such industries or establishments operating on a continuous 24-hour schedule.
With these amendments, it is expected that businesses will become more efficient, competitive, and flexible in responding to client needs, and at same time protect the interest of the workforce by providing for an enhanced work-life balance.
"The old standard of working eight hours a day for a working time of 40 hours a week is becoming obsolete. We now have 24 hour, seven day-a-week schedule, mostly employing hard-core of basic information technology skills, more women work at night and the bulk of OFWs are now women. Some work at home with flexible schedules," he said.
In the end, Angara said that the Labor Code can be "overhauled without sacrificing the lofty principles of just compensation and the human component of labor."